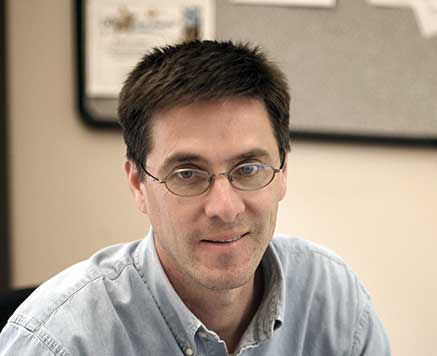 Brian P. Johnson,
PE
Manager, Bristol TN
In the film Apollo 13, Commander Jim Lovell and crew face near certain death from CO2 poisoning. On the ground, an engineering team quickly invents a way to make square filters work in round receptacles, thereby filtering out the CO2. Their chances of success were slim as they faced the near insurmountable constraints of time and the materials available on board the spacecraft. Using only a few tools, plastic bags, cardboard, suit hoses, and duct tape, they designed a solution that saved the mission…and the three lives on board. Perhaps even the space program itself.
While what I do as an engineer is not of that order of urgency and magnitude, what I love about my job is solving problems that have constraints. Constraints challenge my creativity and make me examine design in different ways. Constraints force me to try new things and to experiment more.
In my role as a highway design engineer, constraints vary widely across projects, for example, environmental, utilities, right of way, safety, schedule, and budget. Creating a workable design requires imagination, ingenuity, and flexibility.
My career with Qk4 started over 25 years ago as a summer intern while I was attending the University of Kentucky. After obtaining my BSCE at UK, I spent a couple of years with the Kentucky Transportation Cabinet before returning to Qk4 full time in 1994. In 2002, I had the opportunity to expand Qk4's regional presence by opening an office in northeast Tennessee.
During my twenty years at Qk4, I've had the opportunity to solve constraints on challenging project such as 640 in Knoxville, SR 111 (Sequatchie & Van Buren Counties), SR 34 (Johnson City), Prosperity Church Road for the City of Charlotte, and SR 34 in Johnson City.
Apart from work, I also enjoy giving back to the community through volunteering. I enjoy working with our youth as a Boy Scout leader, soccer coach, and assisting with the youth group at church. As a Past President of the Tennessee Section of ASCE and a current officer of our local branch in the Tri-Cities region, I have enjoyed educating young kids about engineering through presentations at local schools and organizing engineering week events for local boy scouts and girl scouts.
I enjoy sharing my experiences with challenging projects and encouraging our youth to pursue their dreams and consider a career in engineering. Or perhaps even rocket science.
BRIAN JOHNSON
Project Portfolio