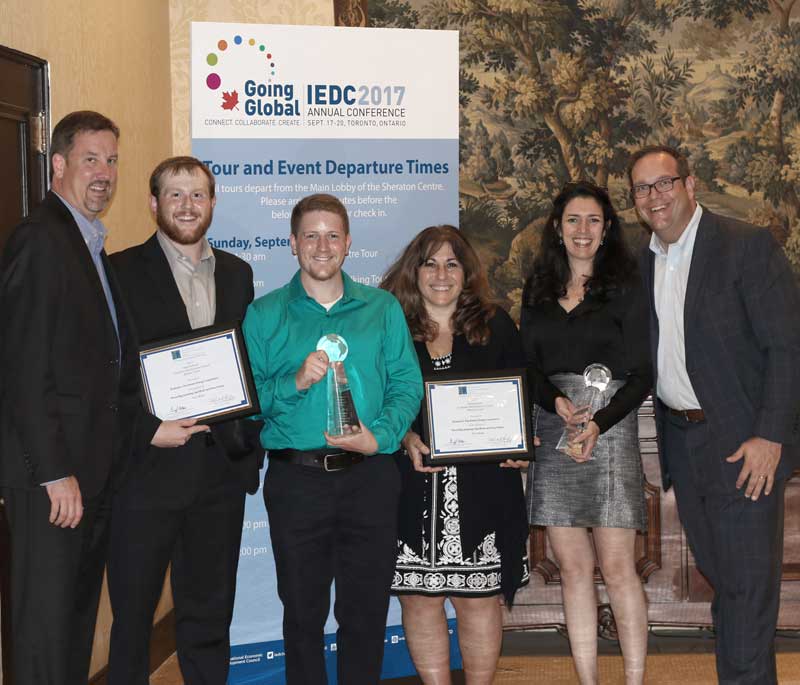 To learn more contact:
Mike Vickers, PE
Qk4, Inc.
Phone: 270-844-2871
Email: mvickers@qk4.com
www.SiteSelect.io
Economic developers praise PowerMap/PowerVision's innovative site selection technology
(September 19, 2017 – – – Toronto, Ontario, Canada) Kentucky-based companies Qk4, Inc. and Interapt, working with Kentucky's Touchstone Energy Cooperatives created PowerMap/PowerVision and received the New Media Award by The International Economic Development Council in Toronto, Ontario this week.
PowerMap/PowerVision, a custom version of the SiteSelect platform, is a GPS-powered economic development desktop and mobile application that provides free demographic data, virtual site renderings, existing surface survey data, and drone flyovers highlighting the development and site engineering strengths of premier sites.
"Receiving this award is a humbling and exciting experience," said Taylor Kelly, President and CEO of Qk4. "First, our dynamic team is honored to receive such a prestigious award with our client Kentucky's Touchstone Energy Cooperatives. Without the group's collective outside-the-box thinking, the true value of the SiteSelect platform could not have been realized. Secondly, our strong relationship with Interapt will continue to drive economic growth throughout the United States, because we have proven that a collaborative effort with unwavering attention to client service, yields measureable quality-of-life improvements for the communities we serve."
Early in 2015, Qk4, Interapt, and Kentucky's Touchstone Energy Cooperative representatives decided a "no-boundaries" product would enable prospects, whether in Japan, Germany, or New Jersey, to see Kentucky sites instantaneously in three dimensions, while also allowing virtual infrastructure and proposed building renderings to be shown. The PowerVision web site and associated mobile application combines high-definition aerial drone video with digital topographic mapping to create three-dimensional surface models and an immersive virtual environment to allow site-selection decisions on the fly. Once imported into computer-aided design and drafting software, the free digital surface files give site users and their engineers the ability to balance site earthwork models, perform development grade drainage analyses, and even complete preliminary design from anywhere in the world.
Kentucky's Touchstone Energy Cooperatives' Economic Development Manager Rodney Hitch believes strongly in the product for good reason. He said, "Since going live with the original version of PowerMap in January 2015, Kentucky's Touchstone Energy Cooperatives have seen over $2 Billion of investment and added over 7,000 jobs to our cooperative's service territories."
PowerMap/PowerVision's data includes custom virtual renderings and proposed infrastructure layered over drone video and mapping to maximize the visual potential, while also providing locations of power company service territories, deep metrics and insights on the community and workforces.
While PowerMap specifically gives economic developers instant access to detailed cooperative service territory maps for all 87 counties of Kentucky served by Kentucky's Touchstone Energy Cooperatives, its SiteSelect technology platform can be deployed to help economic developers in any state or region.