Project Description
University of Louisville East Campus Roundabout and Gateway
Jefferson County, Kentucky
To showcase one of Kentucky's largest, best, and proudest universities, University of Louisville invested in an ambitious decade-long program to improve its roadways and enhance its streetscapes, thereby creating a grander gateway to its Belknap (downtown Louisville) campus.
The aim of the East Campus Roundabout and Gateway project was to provide safe and effective roadways for vehicles, bicycles, pedestrians, and wheelchairs, while employing aesthetic details as set forth in the campus master plan.
Simply stated, the challenge was this: within one of the busiest campus intersections at a major urban university, design and build roadway and streetscape improvements on an impossible timeline, with limited budget, and with minimal disruption to campus life.
Relocating overhead utilities underground was a costly, time-consuming, and complex part of the project. Engineering design choices for relocation of utilities would lead to overall project failure … or success.
To mitigate the risks of the unknowable underground situation, we employed a unique "contract up front" and "design on the fly" approach to design and construction. By asking contractors to submit multiple bid packages based on various scenarios—up front—we were able to mitigate the risks of the subsurface unknowns.
As excavation revealed subsurface realities, we were then able to "design on the fly." This somewhat risky, novel approach enabled us to finish on time and under budget, with little disruption to campus life.
Today, because of resourceful engineering and construction methods, the East Campus Roundabout serves as a fitting gateway to showcase the University of Louisville.
As you would expect, this urban roadway and streetscape project had many apparent design challenges. However, other complexities were less apparent because they resided underground, where the mysteries of what lies below, unseen, are the problems that often derail project schedules and budget. We used innovative methods to mitigate the risks of the "unseen." For example, to locate underground utilities and excavate confined working areas of the site, we used a phased approach to construction of the project and installation of a new underground utility duct network.
Future Value to Engineering
The techniques such as phasing, SUE, vacuum excavation, and unit price bidding are not terribly unique; however, by creatively combining these techniques, we fulfilled the client's tight cost and schedule objectives. Our approach could be employed by other engineers in urban environments when "unseen" utilities could jeopardize schedule and budget.
Socioeconomic Achievements
New businesses on the roundabout chose this location in part because of the university's promise to provide an aesthetically pleasing and fully functional multimodal solution. By fulfilling its promise, the university has opened the campus and vicinity to near limitless economic development.
More importantly, the roundabout served as an improved functional feature for a major campus intersection, accommodating a diverse multimodal user group, thereby ensuring the health safety and welfare of the people of the community and of the university.
Project Complexity
The complexity of the project was due to the extent of the utility relocation required and the mercilessly tight window in which they had to be completed. The existing streetscape contained many eyesores. Yet existing conditions did not provide the bones upon which to build the visual character worthy of a campus gateway corridor. Furthermore, the conditions were unsuitable for high volumes of pedestrians, bicycles and wheelchair users. The unsightly canopy of overhead utility pole infrastructure included tall steel poles supporting transmission power lines high above.
Beneath those were draped a series of battered wooden poles supporting distribution power and telecommunication lines. Complicating the effort to relocate utility lines were many abandoned underground conduits. These inactive lines could derail the project schedule if we could not find and work around them with confidence and speed. As an early design decision, we determined that for the gateway enhancements to be a success, the overhead utilities needed to be removed from sight; however, burying the higher transmission lines would have been cost prohibitive. After exploring and exhausting many alternatives, we offered an expedient, affordable, aesthetically pleasing solution.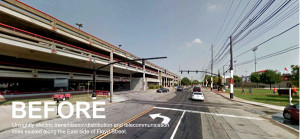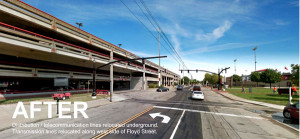 2018 APWA – Streetscape Project of the Year
2018 ACEC –  National Recognition Award
2017 ACEC – KY Engineering Excellence Award
Transportation Category
2017 ABC Award – Award of Excellence Winner
University of Louisville
Office of the President
Grawmeyer Hall
502-649-8413
Additional University of Louisville Projects